Escalator
For office, hotel, commercial building, station, subway, etc.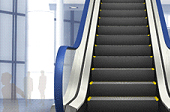 Basic Specifications
Item
J-610
J-1010
Models
JS-B, JS-LB, JP-B, JS-SB, JS-B
Codes
GB 16899, PB 10-77-94
Power supply, V / Hz
380 / 50
Lighting power supply, V / Hz
220 / 50
Rated speed, mps
0.5 / 0.3 / 0.1
Control System
Standard AC1, Option VVVF
Transport capacity, pers./hour
4500
9000
Inclination
30 / 35
Environment
Indoor
Min Rise, mm
30- 2250 mm / 35 -2550 mm
Max Rise, mm
30- 9500 mm / 35 -6000 mm
Step width, mm
610
1010
Escalator width, mm
1150
1550
Simple and Smooth Design with Elegant Appearance
With the understanding of humanity's devotion to enjoyment and comfort, Shanghai Mitsubishi Elevator Co., Ltd combines the unique human-oriented technology and the gorgeous innovative design into products, to give everything that can be touched and seen with a sense of elegance and nobility. The perfect integration of the high-accuracy helical gear speed reduction drive and the variable speed technology provides our escalators with a "heart" featuring high efficiency, energy saving and low noise. The unique single-side positioning high-accuracy U-shaped guide rail is outfitted with high quality guard of perfect feel so that safety will be guaranteed, still, with a sense of elegance. With a wide range of options such as lighting solutions beneath handrails, lighting solutions beneath steps and guard decorations, elevators are able to be tailored in unique styles to properly suit the surrounding environment: from noisy public traffic system to hotels and shopping malls where compact design and sufficient comfort are a must, so as to provide comfort and ease to passengers in traveling up and down as well as ornament the bustling business environment with more charm.
The design concept of Mitsubishi escalator always keeps in step with the technology development in the world. The J-type escalator with simple and smooth design saves much space for users; the A-type escalator with multi-drive makes unlimited traveling height possible; the innovation of the spiral escalator undermines the traditional concept that
escalator has to travel up and down in a straight line.
Shanghai Mitsubishi Elevator Co., Ltd is no longer content to provide escalators featuring stable operation, high efficiency and energy saving, but offer passengers with honorable experience and enjoyment in details.
Rounded Handrail Inlet Cap
Our rounded Handrail Inlet Cap streamlines with the Moving Handrails, lending a silent elegance to the boarding and landing areas.
Clearly-contrasted Floor Plate
Extended areas from the Moving Handrails feature a different pattern for a clearer contrast for enhanced visibility and smoother passenger flows.
Screw-free Inner Deck
Removing screws from the Inner Deck side face not only presents an even softer, more simple look, but also removes the danger of passengers snagging their clothes.
Handrails Lighting
Lighting under the Moving Handrails creates an effect of warm, glowing elegance.* Not applicable to outdoor use.