Passenger conveyor
For grocery stores, shopping malls and other applications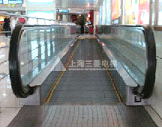 Basic Specifications
Type
Inclined
Horizontal
Models
SC-LB
CS-SB
CS-LB
CS-B
Codes
GB 16899, PB 10-77-94
GB 16899, PB 10-77-94
Power supply, V / Hz
380 / 50
380 / 50
Lighting power supply, V / Hz
220 / 50
220 / 50
Rated speed, mps
0.5 / 0.65
0.5 / 0.65
0.5
0.65
Control System
Standard AC1, Option VVVF
Standard AC1, Option VVVF
Transport capacity, pers./hour
9000 / 11700
6750 / 8775
9000
11700
Inclination, °
8 / 10 / 11 / 12
0 / 6
Environment
Indoor
Indoor
Travel, m
0° – 100 / 6°- 40
Max Rise, mm
12° – 6800 mm
Steps width, mm
1010
810
1010
Conveyors width, mm
1550
1350
1550
Quiet and Beautiful
Traveling on the Mitsubishi C-series passenger conveyor will make passengers feel that they are traveling through a quiet time tunnel, so as to enable them to have a rest from the busy lift and travel forward while enjoying rest.
The Mitsubishi C-series passenger conveyor is outfitted with a range of safety protectors. Its full-computerized electric control system can
disconnect the power supply promptly if the operation is abnormal. The application of several energy-saving technologies constantly saves operational cost for users. The unique damping and noise reducing structure provides passengers with
comfortable, stable and quiet experience in traveling.
The Mitsubishi passenger conveyor is not only advanced in technology, but also beautiful in appearance. Handrail in fashionable color, colored glass plate, landing plate pressed by steel and with high wear resistance, quiet and smooth light from the beneath of handrail will bring you to enjoy a colorful and gorgeous world, experience elegancy and nobility while having a rest.